OSHA FOCUS
HAZARD COMMUNICATION
Be sure that your company has all containers labeled. Many companies do a good job maintaining their safety data sheets, but are not labeling all of their containers. Labels must accurately define the contents of the container.
LOCKOUT/TAGOUT
Most companies have a written policy and have trained their employees but have not documented the specific lockout/tagout procedures for all the equipment that is included in the program. Also, companies are required to inspect the program annually and document the inspection.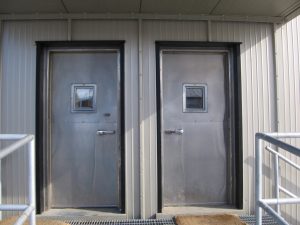 DOORS/EXITS
All man-doors must be labeled. They should say "Exit", "Not an Exit", or the name of the room that the door opens to (Office, Closet, etc.).
Common OSHA Violations
Many companies receive OSHA citations because they have not done the following:
Train Employees
Write Safety Policies
Write Specific Procedures
Issue Forklift Certifications
Conduct a Hazard Assessment
Updated SDS and Container Labels
Provide Hearing Tests when Necessary
Conduct Confined Space Assessments
Post Required Information
Issue Personal Protective Equipment and Enforce PPE Requirements
Develop and Document Emergency Procedures
Conduct Mandatory Audits of Specific Programs
Basic Reminders
Basic reminders are given below:
Post 300 Log Summary February through April
Schedule Update Safety Training for All Employees
Schedule Specific Safety Training for Specialized Employees
Update Company Hazard Assessment and PPE Requirements
Conduct Audit of Lockout/Tagout Program
Develop and Maintain Specific Lockout/Tagout Procedures
Reviewed Safety Programs for Effectiveness
Determine the Specific Needs of Your Company
Be Proactive
SDS Accessibility Issues
Safety data sheets must be easily accessible to all employees at all times. Make sure they are located in an easy-to-access area and they are organized in a manageable fashion. Beware if your company is using an on-demand SDS retrieval system. These are acceptable if the system is used as an added convenience and your company is maintaining hard copies as backups. Remember, safety data sheets must be held for 30 years following a product's use and they must be available immediately! Can you be sure that the company providing the on-demand service will have your company's SDS and the specific revision needed 10 to 30 years from now? Or even be in business 30 years from now?
Safety Committees
Safety Committees Beware
Companies in Pennsylvania who have Certified Safety Committees can be audited by the state. Auditors are verifying that the companies have been maintaining their committees as agreed to in the application for certification. This includes meeting at least monthly, generating meeting minutes, and conducting safety committee member training.
Tips:
If your committee is certified, go back and review your application and be sure that your committee is following all the rules of the application.